Deleon (basic story)
Edit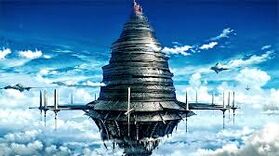 Deleon (Idea for new step in anthia rp) Deleon was made by the great native shaman Inolo De leon, he predicted anthia would fall in a great war so he awakened a old enchanted castle and started working on making a new world. At first Inolo started in secrecy and made the castle a peaceful enviroment for the anthians. But what he did not know was that several necromancers were also working on the castle adding evil creations too it in secrecy. The huge castle is even bigger on the inside it appears as if it was as big as anthia but different shaped and different insides. The shaman worked on it for hundreds of years and so did the necromancers. There are many secret areas inside of it, hidden with many treasures as well as rooms with evil creatures. The shaman exposed his castle when it was done to the anthians while the great war was in way. The war was causing the land to crack and start self destructing. Many anthians evacuated when they realized and got away just at the nick of time. When the anthians were inside it seemed like a huge city and they could see several others too. But De Leon still did not know that the evil entities roamed around his creation still adding more and more evil beigns. When the anthians settled in and started a government and remained in order they were attacked by strange void creatures. They survived but still lost much. Inolo was shocked and soon the anthians reacted to this accusing him of lieing and saying the land was safe. They wanted to hang him and kill him but the government saw great usefulness in De Leon and kept him hidden in a secret cell. As time passed Inolo grew mad and started predicting all types of things. He delved into madness while the anthians remained in order but unaware of the dangers that lie ahead.
The evil inside
Edit
The evil deities had been watching the castle and waiting until someone would awaked it. When De leon did they went inside and started their projects of evil while De leon made his weak land in only a small fraction of the castle not realizing what had been happening the whole time.
The Deities
Edit
Deity of Shadows: His real name is Sahdro he is the person behind the necromancers creations and has also made his own evil creations. He likes to cause silent chaos among people and then strike seceretly.
Deity of War: His real name is Treuon he is one of the most skilled fighters of the deities, he would bully anything and also makes some of the most dangerous and chaotic monsters. He likes to cause chaos among people and see brothers kill each other and war.
Deity of Silence: Perhaps the weakest but yet most important Deity he sticks to the details staying out of his brothers ways he usually keeps the balance in their chaos and is the wisest of them. He is sort of a Chaotic Neutral person. He likes to see the details and how they affect people in a sort of scientific view, he likes to see a sort of Cause and Effect to everything.
The Government
Edit
The Government is led by several council members and guild leaders. These are powerful and wise figures who determine the future of the anthians
Led by 3 powerful guilds (volunteers to be the leader and make the guild required)
The guilds usually have 1 main guild leader and 2 sides the guilds have scheduled fights and votes each year to decide who is the next leader
The Guilds
Edit
Repulsors of Light:
Edit
Pros: These noble and brave paladins follow the order of light and the heavens, they are kind hearted people that try to keep at peace in all matters. They will help the lower class and give much to the community. They train boys into men and teach them manners, laws, order, and discipline.
Cons: They can be harsh when it comes to crimes and dark matters. They will not show mercy to those who dont follow their order and they want a rigid example. They will eliminate you if you go against their will, they will kick you out of the big picture if you are not willing to follow. They can also sometimes go power hungry.
Legion of the Lost:
Edit
Pros: These men and women are skilled fighters found from across the land, they are usually very skilled and joined the guild because it had people of their skill. They understand people but tend to keep quiet and stay alone. They don't hide things from people and have a neutral perspective but usually follow the right thing.
Cons: They can be a little arrogant at times, or hesitate too much. They have few people in their guild. They are all lead by 1 person and are a little unorganized. They can sometimes value themselves over the guilds importance and not work as a team but as several individuals.
(Make the last guild yourself :D suggestions below this)
Edit
Deleon is basically a alternate universe that is held inside a floating castle which you can exit; however, finding the exit is the tricky part. It is a vast amount of space on the outside and a million times bigger on the inside. You could call it maxamizing space.
Inolo De leon
Edit
Inolo De leon was the last of his ancient tribes. People told legends about him for his connection with the earth and his powers. He is about 6'2, has bronze colored skin, his eyes are a light brown, his hair is black but slowly turning white, he is a little muscular but some would call him skinny, his nose is long and sharp, his lips are tight across his face long and skinny. This man has the ability to predict certain things but the important thing is that he can actually act to change them. Now imprisoned and going mad he is discovering new abilities with his power, but he is using the madness to his advantage.
(I got this idea from an anime it is NOT ALL copied but has a base out of it :p I will add more details to this idea LATER) (THIS IS NOT THE OFFICIAL NEXT STEP TO ANTHIA BUT ONE OF THE SUGGESTIONS YOU MAY ADD THINGS IF YOU WISH BUT IF I DO NOT FIND THEM REASONABLE OR USEFUL I WILL DELETE SORRY IF THAT IS HARSH BUT IM SURE IT WONT HAPPEN SINCE YOU ALL MUST HAVE GREAT IDEAS MAKE SUGGESTIONS :P)